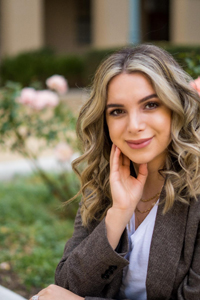 Angelica Churchian is an LA-based Licensed Marriage and Family Therapist (LMFT). At a young age, she found herself being fascinated by the intricate ways of the human mind which grew her passion for psychology. This led her to pursue a career in Marriage and Family Therapy which allowed her to provide support, guidance, and comfort to individuals struggling with mental health disparities. Angelica earned her B.A in Psychology from California State University, Northridge where she volunteered for their Crisis Helpline. She was then immediately accepted to Pepperdine University, where she further expanded her knowledge in psychology by earning a M.A in Clinical Psychology with an Emphasis in Marriage and Family Therapy.  Throughout her career, Angelica has volunteered for nonprofit organizations in Glendale, by providing mental health services to children with behavioral challenges, and providing therapy to individuals suffering from transgenerational trauma, difficulties with acculturation, depression and anxiety. She has extensive experience working in residential substance use treatment facilities as an individual, group, and family therapist.
Angelica integrates the treatment modalities of Cognitive Behavioral Therapy and Dialectical Behavior Therapy to individually serve each client's needs. Angelica is passionate in helping individuals improve their self-esteem, relationships, communication and healing emotional wounds. Her goal is to help you create a better sense of self, while re-building relationships and improving your quality of life.
Angelica's ability to create a welcoming and non-judgmental environment while maintaining a sense of humor and light-heartedness can lead you towards certainty and clarity. When working with Angelica, you will find that her direct approach, attentive attitude, unconditional positive-regard, and genuineness will create a path towards the enrichment of your life.
Angelica looks forward to connecting with you on this journey toward self-exploration and healing.
Fluent in Armenian and English.
Specialties:
Depression
Anxiety
Adolescents
Couples
Self-Esteem
First Responders
Trauma
Substance Use
Anger Management
Modalities:
Individual Therapy
Group Therapy
Couples Therapy