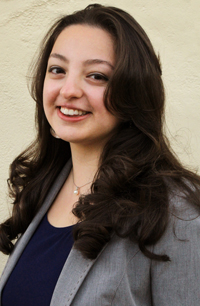 Silva Depanian is a registered Marriage and Family Therapist Intern and Professional Clinical Counselor Intern under the supervision of Anita Avedian, LMFT.  She earned her Masters of Art degree in Clinical Psychology with an emphasis in Marriage and Family Therapy from Pepperdine's School of Education and Psychology. Silva received her Bachelor of Arts degree in Psychology from the University of California, Los Angeles.
Before attending graduate school, Silva worked for two years at an anger management and domestic violence facility. There she gained valuable insight into the field and was inspired to pursue training in Marriage and Family Therapy.
While in graduate school, Silva worked at a community mental health agency where she provided psychotherapy to individuals, families, children, adults, and seniors experiencing difficulties including, but not limited to anxiety, depression, career and work issues, anger, trauma, substance abuse, and dementia.  She also facilitated group therapy on topics including domestic violence, substance abuse, and personal well-being with adults, as well as art group with senior clients.
Silva is dedicated to fostering a safe environment and providing individuals and families with opportunities to achieve a better, more peaceful quality of life. To do so, she takes an integrative approach to therapy, using a blend of Cognitive Behavioral therapy, Family Systems, Humanistic, and Mindfulness theories and interventions.
Additionally, Silva is a certified Anger Management counselor through Anger Management Essentials. She facilitates Anger Management classes to both court-ordered individuals, as well as those who attend voluntarily or have been recommended by their family or workplace. Silva facilitates weekly Anger Management classes at Pasadena, and is able to see individual clients in Pasadena, Glendale, and Sherman Oaks. 
Silva speaks English and Armenian fluently, and strives to provide a comfortable framework in which clients can achieve their goals. 
For more information or to make an appointment, please call 818-396-6376.