Archive for the 'Uncategorized' Category
As we begin 2021, many like to reflect and strategize or plan for the year ahead. For many of us, whether we lead teams, or are part of a family or are married, we would need to communicate these goals with others effectively, to make sure everyone is on the same page. Communicating effectively and getting everyone on the same page can be difficult, especially when there are different motives driving the individuals.
Out of the various types of communication, assertive communication is viewed as the most effective. According to Anita Avedian's Anger Management Essentials Workbook, assertiveness entails directly expressing our thoughts and feelings in a respectful way, leaving no room for assumptions. Some fundamental tips to consider when communicating the goals and plans in either your home or business;
1. Include those involved in the planning process. Be transparent with the goals. Transparency helps to foster trust within a group of people. According to forbes.com, not only does it show that you trust the person and value their input, but that it could also be an opportunity to get new ideas! Make sure these goals complement the vision and mission of the company.
2.         Evaluation session. This would be a good time to review the last season, or year, to thoroughly evaluate what worked and what didn't. According to the center for creative leadership, evaluation clarifies outcomes, focuses attention, supports ongoing learning and finally, it influences future actions and decisions.
3. Do your homework. Make sure you have vetted the processes of how you would like to attain or reach your goals. Do the necessary research, consult with experts in areas when you're not as familiar and determine a process which is easy to communicate and digest.
4.         Divide tasks.  Delegating is giving each of them a responsibility, helping them feel valued and helps reassure them of being major contributors to the success of the business or family. This is also a significant way to exercise good time management skills. According to the Harvard business review, a study was done in 2007 on time management, close to 50% of the 332 companies evaluated expressed concern about their employees delegation skills.
5. Accountability. If you are able, have a 1:1 meeting with employees, checking in regularly and determining ways we can be of support. For family members, this could be a good time to check in with your children too – not on a meeting, but a date or time with just the two of you.
6. Set reasonable deadlines for each step of the journey. This is to make sure there is progress being made and no one is left behind.
Although these tips may seem more business oriented, they can be applied in various areas of our lives. How we manage money to how to improve relationships. They are strategies that could be used dynamically.
Have you ever been in a social situation and didn't know what to say? Social anxiety can lead to avoiding starting conversations because of our insecurities. We might think that we don't have anything interesting to say or that people wouldn't care about our opinions. How many times have you been to a party, or a conference, or out for an evening of fun, and seen people that you'd like to get to know. But rather than allowing yourself to be vulnerable and exposing your interest, you chose to avoid approaching them? Though these worries may be common for many people, it is extremely difficult for the people with social anxiety.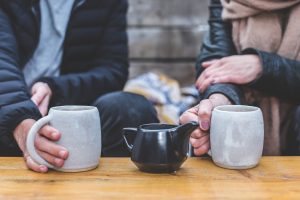 If you have social anxiety, and would like to take some steps towards overcoming this concern, answer the following questions:
1- What is the worst that could happen?
2- Will introducing yourself result in being criticized or teased?
3- If you don't hit it off with someone right away does that mean you won't ever get along with another stranger?
If you really think about numbers two and three, the answer is probably "no." What's likely to happen when you have a small conversation with someone is that it may not lead into something meaningful; however, the practice of starting such conversations will help you build some confidence to approaching more people. Eventually starting conversations will lead to the possibility of developing more meaningful and deeper relationships. Think about it: we're all strangers before we become friends, associates, colleagues, or even lovers.
In order to better prepare you for starting a conversation in any situation, we have four tips for you to try.
First, don't worry about the first words out of your mouth being the funniest, cleverest or most meaningful openers. It is common for someone with social anxiety to have the perfect approach, and opening. We are very critical of ourselves. A casual introduction or comment on the weather works just fine. For example, "I noticed your smile and think it's very endearing."
Second, depending on where you are when meeting someone, you can ask rely on comments pertaining to your current surroundings. If you are at an event, you could ask how the other person knows the host. Or whether they've been part of the event in the past.
Third, talk about a positive aspect rather than a negative experience. It's not fun for people to hear negativity.
Fourth, ask open-ended questions and maintain a good balance of comments, stories, and questions. Be sure not to ask too many questions consecutively. And also make sure you're not the only one talking. Oftentimes it is easier for the socially anxious person to ask questions and take the attention away from themselves.
These four tips can be practiced in a safe setting such as a social anxiety group before you take them into the world. Each time you initiate a conversation, it will get easier. Moreover, the more you practice, the easier it gets. Conversations are wonderful learning tools. Once you have developed a few simple skills, you will be on the road to developing more meaningful relationships.
"There is no such thing as a worthless conversation, provided you know what to listen for. And questions are the breath of life for a conversation." ~James Nathan Miller
Examples of Conversation Starters
1. "I don't know anyone around here so I thought I'd come talk to you." or  "I'm a little nervous talking with strangers, but I just had to come say hi."
2. Talk about something you know the person is interested in. "What about the game last night!" "Yankees (or other team) aren't doing so well this season." Or "Your flowers are looking lovely." 
3. "You look like a [lawyer/CEO/baker/some noble profession]." The person is bound to ask why  you guessed that particular profession
4. Talk about a funny, embarrassing moment.
5. "What'd you get up to earlier today?
6. 'You look lost. Do you need help?"
7. My daughter's birthday party is this weekend. It's taken so much planning! What do you do for your kids' birthday parties.
8. I bet you $50 you're gonna turn me down.
9. 'I notice that you bought some apple cider vinegar. I have always wondered, what are the health benefits?'
10. That's an interesting T-shirt. What does that symbol stands for?'
11. Do you have any trips coming up?
12. Are you watching Game of Thrones? House of Cards? Enter popular TV show here __________?
13. I'm planning a special occasion meal. Do you have any restaurant recommendations?
14. I'm looking for a new book? I really enjoy (biographies, fiction, sci-fi) Have you read any good books lately?
15. I love your necklace, tie, ring, brooch? Where did you get it?
16. Are you looking forward to anything special this week?
17. How did you hear about this event? How do you know the host of the party? Do you come here often?
18. Did you have a chance to listen to the news today? I didn't have time to check in. Did I miss anything?
19. What are you passionate about?